Save Money When You Buy A New High Efficiency Air Conditioner That Qualifies For Rebates!
Lennox Air Conditioners
Lennox Signature XC17 Air Conditioner
Efficiency rating of up to 18.00 SEER
Lennox Signature XC21 Air Conditioner
Efficiency rating of up to 21.00 SEER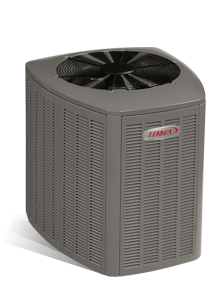 Lennox Elite XC13 Air Conditioner
Efficiency rating of up to 15.50 SEER
Lennox Elite XC14 Air Conditioner
Efficiency rating of up to 16.20 SEER
Lennox Elite XC16 Air Conditioner
Efficiency rating of up to 17.20 SEER
Lennox Merit 13ACX Air Conditioner
Efficiency rating up to 13.00 SEER
Lennox Merit 14ACX Air Conditioner
Efficiency rating up to 14.00 SEER
Goodman Air Conditioners
GSX13 Air Conditioner
Efficiency rating of up to 13.0 SEER
GSX16 Air Conditioner
Efficiency rating of up to 16.0 SEER
DSXC16 Air Conditioner
Efficiency rating of up to 16.0 SEER
DSXC18 Air Conditioner
Efficiency rating of up to 18.0 SEER
Aire-Flo Air Conditioners
Aire-Flo 13 Air conditioner
Efficiency rating of up to 13.0 SEER
Aire-Flo 14 Air Conditioner
Efficiency rating of up to 14.0 SEER
How To Avoid A/C Problems
Performing annual maintenance on your AC unit is the best way to avoid cooling problems and unexpected repair costs. You will also extend the lifespan of your air conditioner, saving money on costly early replacement. Besides that, you will have a lower energy bill. Your air conditioner needs regular attention to ensure that it's working at optimum efficiency.
Keep the Filters Clean
For your air conditioner to function well through its years of service, its fins, coils, and filters need consistent maintenance. The vital upkeep task that will guarantee the effectiveness of your air conditioner is to clean or replace its filters regularly. Dirty, clogged filters block natural airflow and drastically reduce the efficiency of your system.
Keep the Vents Clear
Some people attempt to conceal vents behind curtains, or underneath furniture, because, let's face it; they are not the most attractive element in a home. If you try to hide the vents, however, the system does not get the airflow it needs to run well and provide a comfortable indoor temperature. For a more efficient, healthier air conditioning system, keep vents uncovered and dust them often.
Keep Your Outdoor AC Unit Clear
Allow your air conditioner to breathe. You limit airflow through the condensing coil when you crowd the unit, making it work harder to cool your home. If you don't ensure that your unit has ventilation right around ut, it will increase wear and tear on your equipment, and it won't last as long. It will also cause an increase in your energy bills. Keep the area around your unit free from shrubbery, regularly check for leaf or dirt buildup, and clear it away.
Did you know that you get the best deal on air conditioner maintenance when you sign up for our protection plan? We have designed this plan to perfection for your equipment and needs. If you need maintenance service, or you want to tune-up your AC before problems arise and you end up needing an emergency repair, schedule your appointment here or call us at (416) 799-9977.
Complete the form below to request a Free estimate quote for air conditioner installation. Our certified technician will contact you shortly.
Why choose 1st Air to install your new Air Conditioner
We are a reliable heating and cooling company that will help you get the right air conditioner for your home. Our sales representatives will help you during the buying process and our licensed technicians will install your new air conditioner quickly and efficiently. Your comfort and satisfaction is our top priority.
Guidance to buy an Air Conditioner
Choose the right Air Conditioner
Choosing the right size of air conditioner unit for your home depends on many factors including the size of the house, insulation, number of windows and outside doors. Following are some features that should be considered during the choosing process:
AC energy efficiency: it is an air conditioner's ability to convert energy (electricity) into cooling in the most cost-effective way.
The SEER rating: Seasonal Energy Efficiency Rating, the higher the SEER rating the more efficient the unit and the less it will cost to provide cooling.
Warranties: Ensures that AC systems will last for many years.
Our home advisers will help you to choose the right cooling system for your home comfort.
Terms & Conditions
* Some Conditions apply. Offer is only applicable when is possible to install the humidifier. Offer cannot be combined with any other new furnace or central air conditioner offer.